Start video interviewing today
Join thousands of like-minded professionals on myInterview
Monthly billing
Yearly billing
Save 20%
 
 
 

 

 

 

Active Jobs

User Seats

One Way Interviews

Live Interviews Scheduling

Text / SMS invites

Accessibility

Adjustable Time Limits

On question retakes

Open / Hidden questions

Multi Language Candidate Experience

24/7 Built in Support

Enhanced Branding

Video Questions

Text responses

Multiple choice responses

Multi Branding

Templates

Kanban Board

Candidate Sharing

Rating

Comments

Analytics

Customised Workflow

Upload documents

Advanced Analytics

Advanced Recruiter Sharing

Video Transcription

Download Interviews

Advanced Exports

Automated Shortlisting

Rolefit Insights

Smart phrase filtering

Zapier Integration

ATS Integrations

API Access for development

Bespoke Integrations

24/7 Support

Onboarding Session

Dedicated success manager

SLA

Roles and Permissions

User Management

GDPR Suite

Password Complexity

Security Evalution

Hosting and storage customization
*One Starter account per company

"Effective and unique way to get to know candidates in the virtual world."
Ashley Carlson
Human Resources manager

"myInterview has made my one-woman hiring department smooth and easy. Its amazing & affordable"
Eleanora Sharpe
Director Of Human Resources

"We enabled candidates to record their interviews 24/7 from any device."
Mark Jenkins
Logistics Recruitment Manager

"The quality of our orientation leaders has changed, for the better."
Cam Hoyt
Program Coordinator
of Orientation Programs

"Our new process empowered our Talent Acquisition Team and Line Managers to collaborate with ease."
Taz Vaid
Recruitment manager
See it in action now
Would you like to try it now - no commitment, no strings attached? Activate your free account now. No credit card required.
What you'll get today:
1 Active Job
2 Users
10 Candidates per month
Co-branded landing page
Onboarding tour
Full GDPR compliance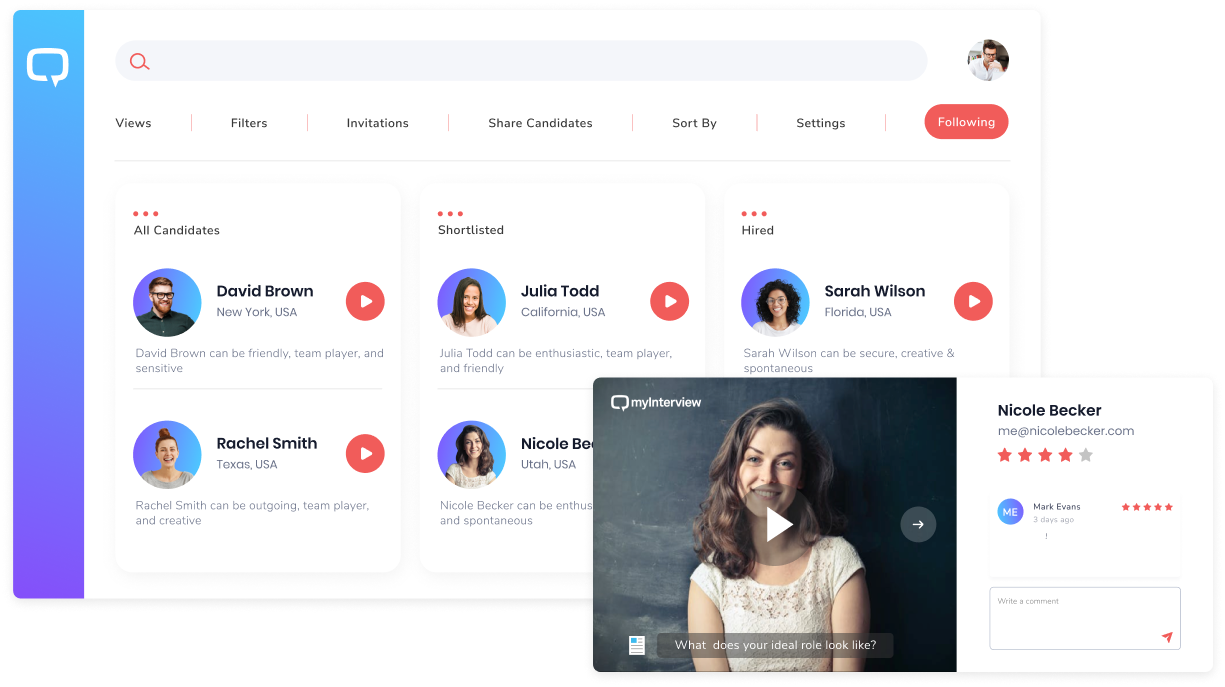 Have a question?
myInterview's asynchronous video interview platform allows candidates to answer pre-defined interview questions in the initial screening stages - often in place of a phone interview. With myInterview, recruiters save time and money while candidates get a chance to express themselves beyond their resumes.
Time is money and you'll be saving lots of it! Instead of wasting time on endless phone calls chasing candidates and scheduling meetings, myInterview lets you skip some steps and polish others. You can send out your first interview in minutes, let candidates record themselves on their own time and then you and your team review, comment and rate each application all from one platform. Speedy, we know.
myInterview puts recruiters and candidates first. We're known for our flawless user-friendly design, making our platform so easy to use you'll have your first interview ready in minutes. Here's what sets us apart:
Efficiency - No more phone tag or delays, myInterview's one-way interviews shorten the hiring process and allow you to manage hundreds of candidates in one place.
Collaboration - Share candidate videos with hiring managers in seconds so you don't miss your next star hire or waste time on the wrong candidate.
Personality - myInterview allows you to track your candidates and gain valuable insights about your hiring funnel, all while giving candidates the opportunity to express themselves.
We completely understand that this happens from time to time. That's why myInterview is committed to getting video interviews right. We've implemented a software like no other, promising a positive candidate experience and offering training and support from our dedicated Customer Success team. If that's not enough for you to give us a try, we're happy to chat about your hesitations and see how we can sweeten the deal.
myInterview Intelligence™ lets you hire smarter. Whether you're looking for someone outgoing, sensitive or charismatic, myInterview's Smart Shortlisting™ will rank your top candidates based on the qualities you're looking for. Our Word Cloud™ selects the most common words and allows you to filter through candidates based on key skills and experiences. Curious to know more about how AI can revolutionize your hiring process? Chat with our experts.
We love a good collab! myInterview integrates with JobAdder, Workable, Greenhouse, Zapier and more. You can also integrate myInterview directly onto your site with our Webhook API. Our integrations are super easy to set-up and our dedicated team is here to help along the way. Want to learn more about integrating myInterview? Chat to us.
Thinking about integrating myInterview with your Greenhouse account? We have all the info you need on one page!
Yes! You can totally customise your interview experience. You choose the colours, logo, background and videos - the rest is on us ;)
See how other companies are using enhanced branding here.
You do! All data is stored in the region of recording and myInterview is fully GDPR compliant. We process thousands of videos each day from across the globe. You control access to all videos submitted to you and candidates can easily request to delete a video in full compliance with GDPR.
Read more about our GDPR guides and privacy policies here.
Yes! We are 100% GDPR compliant.
Candidates give permission for data processing and can request their data be deleted at anypoint.
Read our GDPR guide and privacy policies here.
We're happy to answer any more questions. Send us a message at help@myinterview.com or book a time here.
We would love to show you! Request a full product demo here.
Integrate our widget API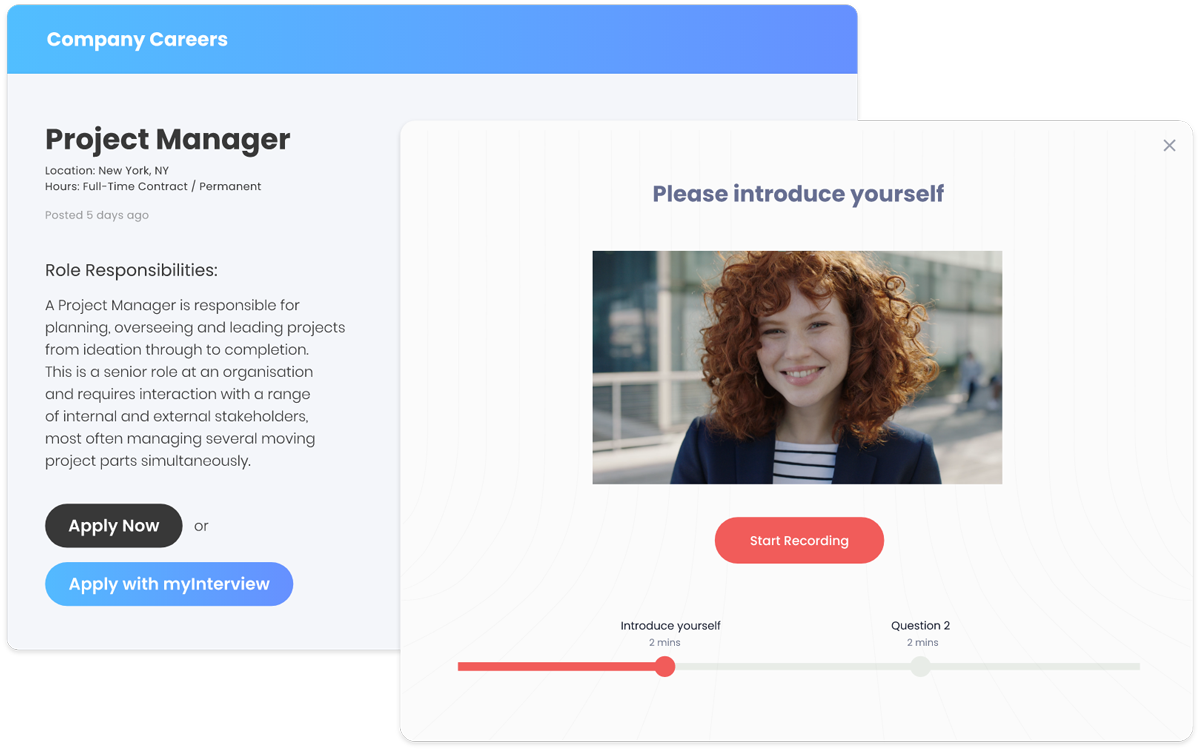 Want to add video interviews to your own site, app or experience? Our Widget API is available on custom plans. Integrate the power of myInterview in just a few hours.
Talk to Us